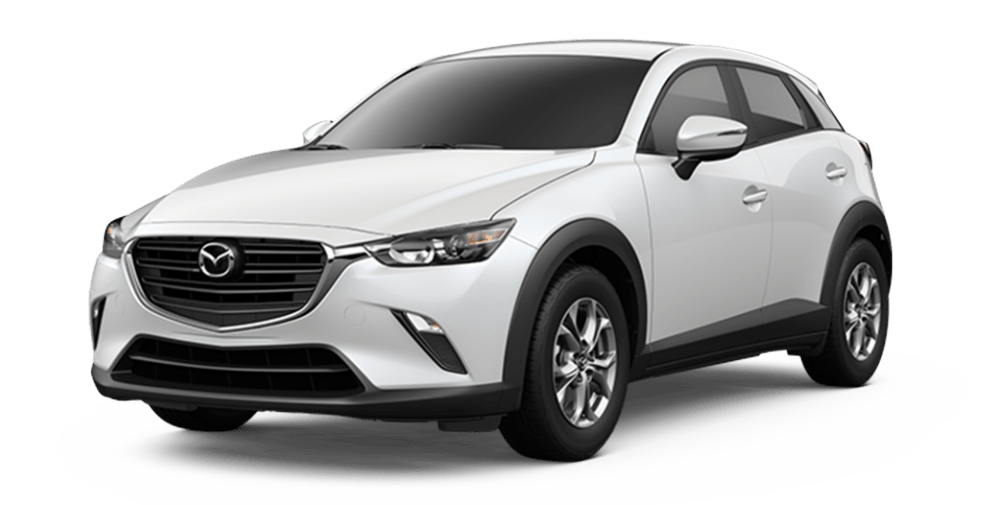 A Fun and Lively Crossover: The Mazda CX-3
Sure, SUVs are the MVPs of the automotive world these days. Suitable for families on vacation, adventurers seeking power and all-wheel drive capability, and carpool warriors alike, the SUV appeals to people on varied platforms, for a host of different reasons.
But then there are other types of drivers. There are the drivers who don't need quite so much cargo room, who can pack their belongings into a generous, but not excessive, bay. Drivers who don't have a carload of kids to transport to after-school soccer practice. For those whose vacations tend more toward jaunts to the beach than off-road rambling.
These drivers appreciate smooth, responsive handling. They appreciate the money-saving implications of solid fuel economy. They want the perks of an SUV-good looks, ample space, entertainment features-but perhaps not all of the excess that tends to accompany them.
For these drivers, there's the Mazda CX-3. A subcompact crossover, it's a formidable rival on the road with its smooth, peppy ride, responsive handling, and comfortably well-equipped interior. The CX-3 is not only easy to drive but fun to drive, so that even running errands around town can become less of a chore.
Discover the universal appeal of a crossover that drives more like a car. At Hennessy Mazda, we have a full lineup of Mazda vehicles in stock and ready for you to explore. Whether you're won over by the CX-3 or prefer a slightly larger but equally impressive crossover like the CX-5-or something different altogether-you'll find your ideal ride here.
What's more, we can make sure that you're saving money at the same time. We have an ever-changing array of special offers and incentives that can make buying or leasing a new or used Mazda more rewarding and more affordable than you ever imagined.
Stop by our dealership today and see what we mean.
Updates to the 2019 Mazda CX-3
Mazda put the CX-3 under a slight styling refresh for the 2019 model year and also increased the power of the engine under the hood of the vehicle. That makes what was already one of the best values on the subcompact crossover market an even better choice! Just like last year, you've got three trim levels to choose from in the 2019 Mazda CX-3 lineup: Sport, Touring, and Grand Touring.
It's also loaded up with tech in every trim level. One of the most attractive tech features with the 2019 Mazda CX-3 is the available Active Driving Display. It puts all the valuable driving information you need directly in your line of sight and includes data on speed, navigation, safety warnings, and more. Plus - when you opt for the Bose® Surround Sound System with the 2019 CX-3, you turn the crossover into a mobile concert hall with crystal clear sound.
Read more.
A Short History of the Mazda CX-3
The Mazda CX-3 has only a short history to pull from. It debuted in 2016 to complete Mazda's lineup of SUVs. Well received for its fun-loving character and strong value, the CX-3 was built on the same platform as the subcompact Mazda2 and was 9.6 inches shorter than its big brother, the compact CX-5.
With its more aggressive look, sporty spirit, and tech-savvy features like a standard Mazda Connect infotainment system, the CX-3 stood out in particular to younger drivers.
Today's CX-3 has surpassed its initial incarnation with improved handling, updated tech features, additional standard safety equipment, and more. It remains a strong competitor on the road and stands up to rival SUVs and sedans alike with its versatility and well-rounded appeal.
Why Should You Purchase or Lease from Hennessy Mazda?
We at Hennessy Mazda are not just here to sell you a car, but to give you an all-around great experience. Our product specialists are happy to walk you through our broad inventory of both new and used vehicles and help you narrow down your options. When you've come up with your main contenders, we'll put you behind the wheel for a test drive so you can experience each car firsthand and see if it works for you. The best part? Whether you're buying or leasing, we can help you find the best offers and incentives to save you money on the car you want.
Get in touch with us today and let us answer any questions you may have about our stock, financing options, or special offers. When you're ready, stop by our dealership at 7261 Jonesboro Road in Morrow and meet with a member of our team who will work to make this your best car-dealership experience ever!